2. Introduction¶
Galaxies. They are some of the most beautiful and fascinating objects in the Universe. They come in a large variety of sizes and shapes, colors and brightnesses, from majestic spirals to seemingly-boring ellipticals, massive cluster members to dinky satellites only seen nearby. Every new way that astronomers devise to look at the sky reveals a different view of galaxies, from the familiar optical and near-infrared images dominated by star light, to the dust emission in the far infrared, and the high-energy processes that shape the far reaches of the wavelength scale. Remarkably, much of the structure of galaxies can be understood using simple physics and this book gives introduction to the quantitative understanding of galactic structure, formation, and evolution that is derived primarily from chasing down the effects of gravity on stellar systems. Of course, while gravity is arguably the most important fundamental force on the scale of galaxies, it does not suffice to understand the full picture of galaxies and their formation and evolution. The physics of radiation, hydrodynamics, nuclear fusion, chemistry, etc. play a fundamental role as well and we will also discuss their important contributions to shaping galaxies.
2.1. The world of galaxies¶
Before we start our sojourn in the realm of galaxies, let's take a quick tour of the types of galaxies found in the Universe. Here are two very beautiful, famous galaxies: M51 and Cen A:
(Credit: M51: NASA/JPL-Caltech/Univ. of Arizona/DSS/SST; CenA: NASA/DOE/Fermi LAT Collaboration, Capella Observatory.)
M51 is a grand-design spiral galaxy. While the origin of spiral structure in galaxies remains an open problem with likely a variety of solutions, in this case the beautiful spiral structure is most probably caused by the response to the gravity from the companion galaxy at the top of the image. Spiral structure, besides looking pretty, is an important driver of star formation, as the gravitational force of the spiral compresses gas, leading to the formation of new stars within the spirals. These show up as the red dots in the image above, which are small clusters of young stars (traced by their ionized HII emision here).
Cen A is one of the brightest galaxies in the sky and an example of an S0 galaxy, a galaxy somewhere between the extremes of elliptical and spiral galaxies. Its exact classification is still a matter of debate and this illustrates the difficulty we face when studying galaxies. The only data we have is a single snapshot in time from a single perspective, with very limited information on its three-dimensional structure. Because no galaxy is a fully relaxed system, all galaxies are evolving and many are going through dramatic transformations. Cen A has probably endured a merger in its recent past, leading to a burst of star formation and the fueling of an active galactic nucleus (AGN)—a supermassive black hole with a bright accretion disk—at its center.
While most of the famous galaxies are as large as those pictured above, many other galaxies are quite a bit smaller. We find many examples of these in our own backyard, as satellite galaxies of the Milky Way. Here are two examples: the Large Magellanic Cloud (LMC) and the Fornax dwarf galaxy (not to be confused with the Fornax cluster!):
(Credit: LMC: Dylan O'Donnell; Fornax: ESO/Digitized Sky Survey 2)
The LMC is one of the closest neighbors of the Milky Way and the largest of its satellite galaxies—galaxies caught in the Milky Way's gravitational attraction. The LMC is part of a pair of galaxies that fell into the Milky Way's gravitational field together and its irregular appearance is in large part due to the tidal interactions with its sibling, the Small Magellanic Cloud, and with the Milky Way. The LMC has a prominent bar at its center and was likely a barred spiral galaxy before it started interacting with the Milky Way. The LMC is about 10 times smaller in size than the Milky Way and somewhere between 10 and 100 times smaller in mass. It has lots of gas and many areas of active star formation. Some of the most famous star-forming regions are in the LMC.
Fornax is an example of a dwarf spheroidal galaxy, which are the smallest galaxies. Such galaxies are much more diffuse, as can be seen by comparing the Fornax dwarf galaxy to the pictures of M51 or Cen A above, and their masses are dominated by dark matter, making them some of the best places we have to constrain the fundamental nature of dark matter. Fornax in particular is a bit of a dynamical celebrity, because it has a number of globular clusters. If the dark-matter profile in the centers of galaxies has the expected, cuspy shape, then the process of dynamical friction should have caused these clusters to have long since spiraled into the center (Tremaine 1976). That Fornax still has these globular clusters therefore indicates that the dark-matter density is lower than expected at its center.
Circling back to Milky-Way-sized galaxies for the moment, here are two more examples of large disk galaxies: NGC 1300 and M81:
(Credit: NGC1300: NASA, ESA, and The Hubble Heritage Team STScI/AURA); M81: NASA, ESA and the Hubble Heritage Team (STScI/AURA))
The most obvious property of NGC 1300 is the rectangular-ish feature at its center, with two prominent spiral arms coming off of its sides. This feature is called a bar (for obvious reasons) and it is a common feature of disk galaxies. Overall, about 30% of disk galaxies in the local Universe have bars, a fraction that goes down as we look further into the past, showing that bars are a relatively recent (in cosmic time units!) feature of galaxies. Our own Milky Way has a bar at its center, the exact properties of which are still up for debate, but it is far less strong than the bar in NGC 1300. Bars form naturally during the evolution of disk galaxies.
M81 is a spiral galaxy without an obvious bar at its center. Instead it has a prominent bulge, a spheroidal concentration of mostly old stars, and tightly wound spirals. M81 is part of a group of galaxies much like the Local Group, the set of galaxies that includes the Milky Way and the Andromeda galaxy (which we will typically refer to as M31), their satellites, and some more small galaxies associated with them. M81 is interacting with M82 and NGC 3077, a good reminder that almost no galaxy lives in isolation.
We could keep showing pictures of barred and spiral disk galaxies (and of barred-spiral disk galaxies!), but the following is an example of an elliptical galaxy: NGC 3923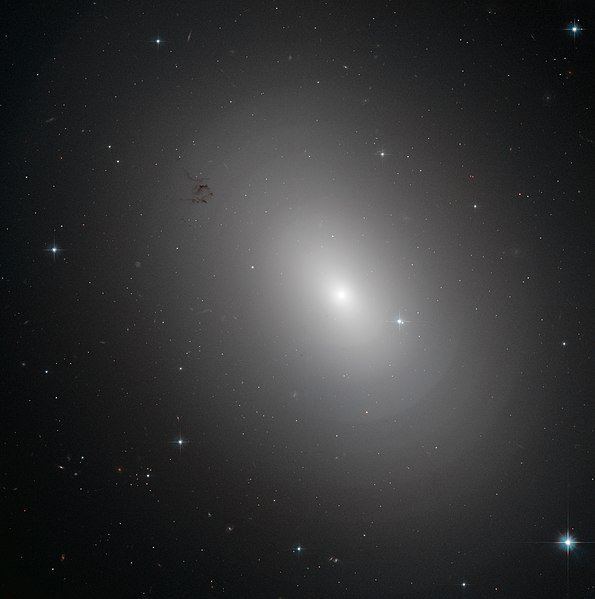 (Credit: NASA/ESA Hubble Space telescope)
NGC 3923 is a more-interesting-than-usual example of an elliptical galaxy, which normally have smooth, elliptical light distributions without any features. Even though most elliptical galaxies might at first glance therefore seem a little boring, their internal orbital structure can be quite complex. NGC 3923 is especially interesting, because it has multiple shell-like features in its outer parts; such galaxies are known as shell galaxies. This indicates that the stars are arranged in a structure more akin to layers than in a smooth, continuous distribution like in other elliptical galaxies. Such shell-like features are common in elliptical galaxies, with an estimated 50% of elliptical galaxies displaying faint shells. These shells are an indication that NGC 3923 has experienced a merger with a small satellite and the distribution of orbits of stars in the satellite got re-arranged to give rise to a density profile with sharp edges.
Galaxies are not just made up of single stars, but also contain stellar clusters of various sorts. Because the evolution of these clusters is intimately related to the evolution of their host galaxies, we will also give them some attention in this book. Two of the main types of stellar clusters are globular clusters and open clusters. Here is an example of one of each: the globular cluster M80 and the open cluster M11:
(Credit: M80: NASA, The Hubble Heritage Team, STScI, AURA; M11: NASA)
It is immediately clear that these are two quite different beasts. Globular clusters are extremely dense. The center of M80 is a blob of light, even in this picture taken by the Hubble Space Telescope, because there are too many stars close together to be able to resolve all of them as individual stars in this image. This particular globular cluster, M80, is one of the most massive of the \(\approx 150\) globular clusters in the Milky Way. Globular clusters are old, found in almost all galaxies, and consist of thousands to hundreds of thousands of stars. Because they are so dense, globular clusters display a rich dynamical phenomenology that is quite different from that of galaxies. Dynamics and stellar evolution are also intimately linked in globular clusters, making them a fine laboratory for stellar evolution and potentially factories for binary black holes such as those seen by LIGO. Globular clusters can also get disrupted by tidal interactions with their host galaxies, leading to the production of narrow stellar streams.
Open clusters are very different from globular clusters. The main difference is that they are much less dense and many of them are only marginally bound. Open clusters dot the disks of star-forming galaxies. They consist of stars born together in a (typically recent) star-formation event. Open clusters are typically only a few hundred millions years old, although some survive for many billions of years. The open cluster pictured above, M11, is about 250 million years old and is a rich open cluster with about 3,000 stars. Open clusters are an important laboratory for simple stellar evolution (because they are less dense than globular clusters, their internal dynamics does not mix with their stellar evolution). Open clusters get easily disrupted by tidal forces and only the most tightly bound therefore survive for billions of years.
2.2. Brief tour of galaxy observations¶
To set the stage for the material covered in this book, we start with a high-level overview of the various components that make up galaxies. The objective here is not to provide a detailed and exhaustive overview of galaxy phenomenology, but merely to briefly discuss the size, shape, and contribution to the overall mass budget of different galactic components. The next chapters will then describe how we calculate the gravitational potential corresponding to the total mass distribution and use this to investigate the structure and mass distribution of galaxies. We will add more detailed discussion of the structure of different galaxy types as we go along in our exploration of galaxies.
We will focus our overview on large disk galaxies. Large disk galaxies are one of the most important type of galaxies for various reasons: approximately half of all galaxies in the local Universe are disk galaxies and such galaxies appear to be most efficient at converting gas into stars. Therefore, most stars in the local Universe live in the disks of large disk galaxies (even though smaller galaxies are more numerous, they also contain many fewer stars, so at the end of the day, there are more stars in large disk galaxies). We also live close to the midplane of a large disk galaxy, the Milky Way. This provides us with a detailed, close-up look of the structure of such a galaxy. In the Milky Way, we can observe stars from the most luminous giants to the lowest mass M dwarfs, from the center of the Galaxy to the outskirts of the spherical stellar halo surrounding the disk, and we can study gas in its various atomic and molecular phases. Because galactic disks are "dynamically cold", meaning that the ratio of their velocity dispersion to the typical velocity of a star is small, they are also prone to instabilities that give rise to bars, spiral structure, etc., which are phenomena that we will discuss in later chapters.
Here is a picture of a typical disk galaxy, NGC 4565, seen edge-on: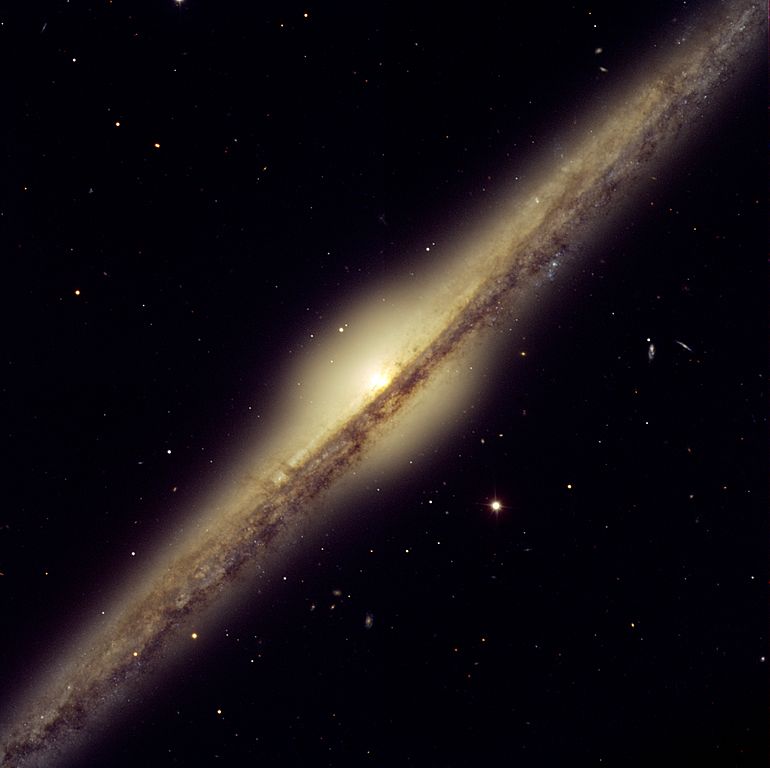 (Credit: ESO)
NGC 4565 displays all of the components of a typical disk galaxy. Its structure is dominated by a disk made up of stars and gas, with a protusion of stars near the center that is called the bulge. The gas itself cannot be seen in this picture, but its presence can be inferred because gas is traced by dust grains, which redden passing starlight and cause the reddish band close to the midplane of the disk. The stars surrounding the disk are foreground Milky Way stars unassociated with NGC 4565. NGC 4565 does have a stellar halo (Harmsen et al. 2017), but it is too faint to be seen in this picture. Also not seen in this picture (and not seen directly—whatever that means—in any picture of any galaxy) is the spheroidal distribution of dark matter that surrounds the disk and extends to very large distances from the center.
Here is a schematic overview of a disk galaxy, the Milky Way in particular (but except for the Sun's position, this applies to all disk galaxies):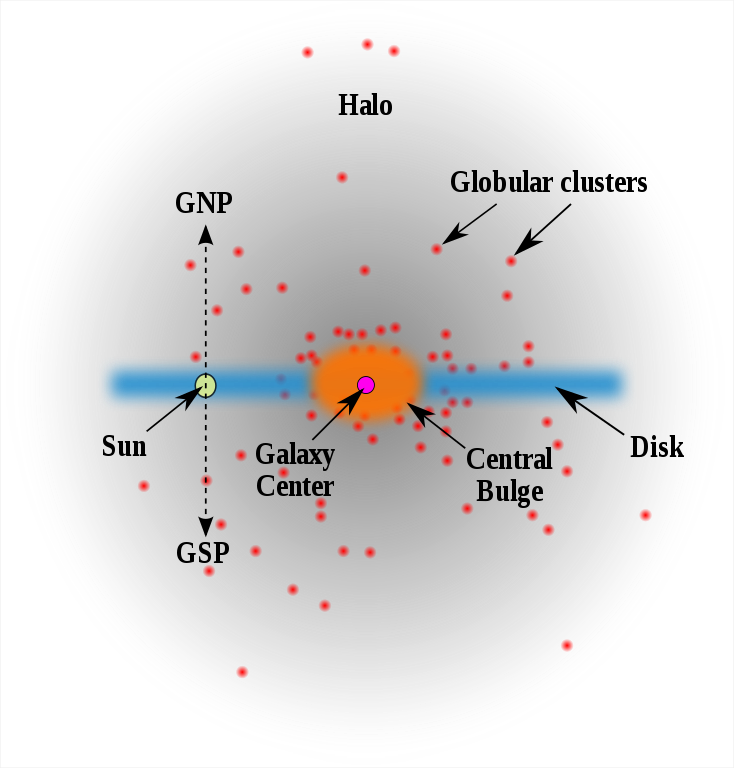 (Credit: RJHall at English Wikipedia)
This illustration shows the disk edge-on and displays the system of globular cluster that surrounds each galaxy in addition to the components that we already discussed. The Galactic center is also separately emphasized. We've known for about two decades that the centers of galaxies host supermassive black holes (see Chapter 17), which can be active and surrounded by an accretion disk (such accretion disks are a topic that we will not cover in this book) or inactive and often surrounded by a dense nuclear star cluster. The dynamics of these star clusters are interesting because they are dense and they consist of relatively few stars (compared to the entire galaxy), which leads to interesting new dynamical phenomenology. This setup is similar to that of globular clusters, except for the supermassive black hole, which has a large effect on the ensuing dynamics. But we are getting off topic!